PHONE
(910)684-8707
HOURS
| | |
| --- | --- |
| Sunday | 12:00pm – 4:00pm |
| Monday – Friday | 10:00am – 6:00pm |
| Saturday | 10:00am – 4:00pm |
| | |
For updated hours including holiday closures be sure to visit our Google Business Page.

ADDRESS
205 NE Broad St, Southern Pines, NC 28387
RUN CLUB
Join us throughout the week with our friends from the Southern Pines Run Club as we hit the payment and trails from various local breweries and shops. Routes are typically 3 – 5 miles from each location and ALL PACES ARE WELCOME. For an up to date list of the current schedule and connect with the Southern Pines Run Club click the SPRC logo below to visit their Facebook Page.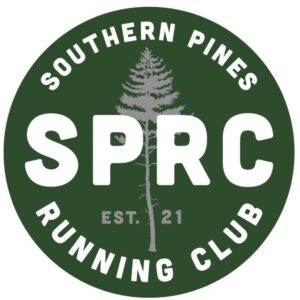 Southern Pines Running Store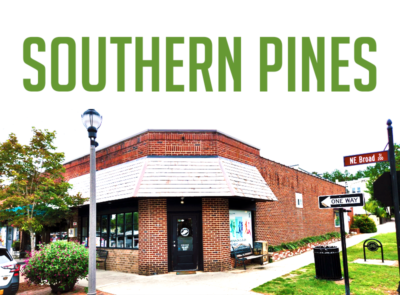 Although mostly recognized for the equestrian activity and beautiful, expansive horse farms, the running scene in Southern Pines has been around for years. And with the official launch of the Southern Pines Run Club on Facebook in 2015, locals began organizing run meetups from their favorite breweries and bottle shops during the week. And those run meetups continued to get more frequent with so many great local brew spots such as Hatchet Brewing Company, Southern Pines Brewing Company, and Southern Pines Growler near by.  When Pace Yourself Run Company was presented with an opportunity to purchase an existing local Southern Pines running store, we jump (or raced) at the chance. Officially opening and rebranding to the PYRC name in the Summer of 2022, Pace Yourself brought in additional shoe, apparel, and product brands including Brooks, Saucony, New Balance, and Nike to this Southern Pines running store. A wide variety of nutrition was also added so locals could have access to more fueling options. Finally, and in keeping the same vibe as the Holly Springs location, a bar was added to include four taps carrying local craft brews so runners can have a one stop shop for all their running needs, and then a cold one afterwards to get them feeling runderful. Afterall, running and beer are like best friends.
But not everything changed. The staff from the previous store all agreed to stay onboard. They are a huge part of the success of this location and carry the same mission as everyone else in the PYRC family – to inspire a community to be active, driven, and to make fitness a life-long experience. 
The Southern Pines running store is still located in the historic district of downtown Southern Pines, right across the street from the famous Southern Pines train station. They are neighbors to several local boutique shops, restaurants, ice cream shops, and even a renovated 1940's movie theater which plays host to First Fridays – a fundraising event from May through November with free concerts, local brews and food trucks. 
We've been very fortunate in Southern Pines to have found a welcoming and active community very similar to that of our first store in Holly Springs. We've enjoyed sharing the evenings with everyone we meet at run club events and have appreciated the opportunity to host a few events ourselves. 
Below are several local races that have become annual staples in the area. 
Festival D'Avion Runway 5k – a super unique race that is hosted at the Moore County Airport. Running route includes the airport grounds, tarmac and taxiways. This race kicks off the local half day festival that celebrates the men and women who have served in the armed forces. 
Autumnfest 5k – another festival event held each year in October in beautiful Downtown Park. The festival, first held in 1978 features arts, crafts, live entertainment, food, and a youth 1k strip to complement the 5k.
Flyers Fun Rock & Run – a beautiful 5k trail course that starts on the Sandhill Community College campus and runs through Reservoir Park (one of our favorite trails).