PHONE
(919) 346-8182
HOURS
| | |
| --- | --- |
| Sunday | 12:00pm – 5:00pm |
| Monday | 10:00am – 6:00pm |
| Tuesday | 10:00am – 8:00pm |
| Wednesday – Saturday | 10:00am – 6:00pm |
| | |
For updated hours including holiday closures be sure to visit our Google Business Page.

ADDRESS
242 S Main St Suite 102, Holly Springs, NC 27540
RUN CLUB
Monday
TapLine Growler
6:30pm
3-5 miles
Tuesday
Pace Yourself Run Co.
6:30pm
1, 3, 4, 5 miles
Thursday
Bombshell Beer Co.
6:30pm
3-4 miles
Saturday
Pace Yourself Run Co.
time and distance varies
WALK CLUB
| | | | |
| --- | --- | --- | --- |
| Wednesday | Pace Yourself Run Co. | 6:30pm | 1 & 3 miles |
| | | | |
TRAIL CLUB
The Trail Club is open to all and meets once a month at special off-site locations for some good single-track trail miles. Each run has a range of distances and is open to all levels. Events and details are posted each month on Pace Yourself Run Clubs Facebook group page. After attending 5 runs, we're happy to reward you with a special Pace Yourself Trail Club swag.
The Run/Walk/Trail Club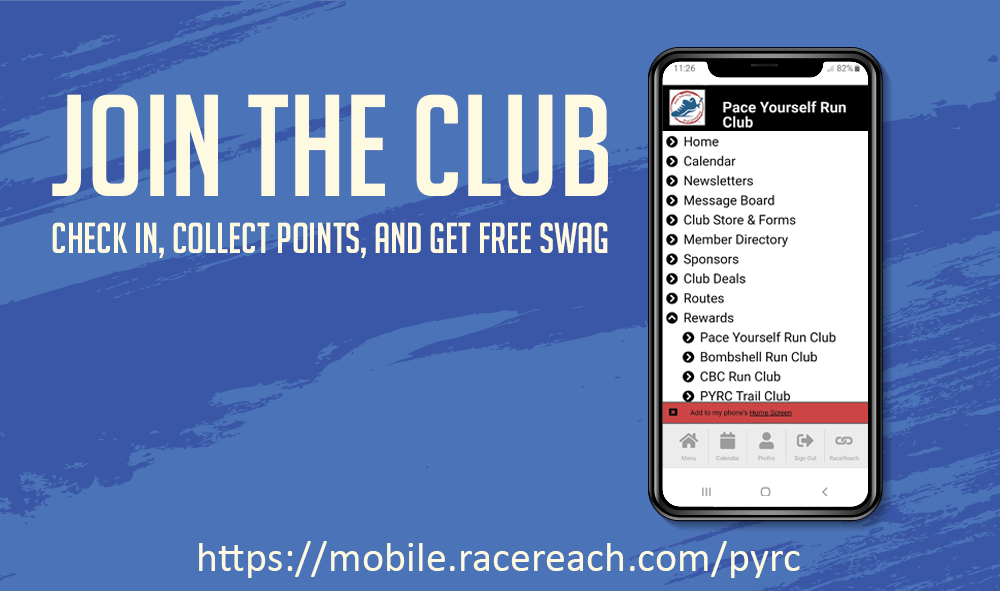 DON'T FORGET to come RUN/WALK with us every evening during the week Monday – Thursday.
Sign up to get a free shirt after your first 10 runs on Tuesdays! PYRC Coordinator leads us out at 6:30pm. ALL PACES WELCOME! (We MEAN it!)
We've also organized a Wednesday Walk Club each week at 6:30pm. During the winter season, please join us at Black Dog Bottleshop. Be sure to sign in using the app, as these attendance check-ins will be tallied together for your PYRC runner rewards.
Thanks to our friends at Race Reach for some cool software to track participation at our runs, so we can brag about your milestones, and send some free stuff and offers your way from time to time! Go to Race Reach, in advance, to CREATE your own account (It's FREE). Then, check-in Tuesday and at any run we sponsor!  See you soon!
For more details on our Run/Walk/Trail club events, stay tuned to our Pace Yourself Run Clubs Facebook group page.
Holly Springs Running Store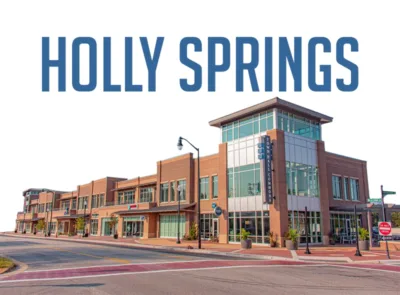 PYRC's Holly Springs Running Store was the first location and opened in the Fall of 2019 right before the COVID shutdown. What a great time to start a business, am I right? The team quickly pivoted to offer shopping by appointment only, launching an ecommerce site, and offering local deliveries. Each pair of shoes ordered came with a free roll of toilet paper – as a semi joke since the shelves were nearly empty. The team did everything they could to keep the dream alive those first few months, and it was surely rewarded by the amazing community that wrapped their arms around this little Holly Springs running store. 
After just a couple years, and being fortunate enough to build the right relationships, PYRC's Holly Springs running store boasted more shoe brands, global recognizable brands as well as smaller independent brands, than any other running shoe store in the triangle region. That's a testament to just how passionate Holly Springs and the surrounding communities of Fuquay-Varina, Apex, Cary, etc. are about running, walking, and having an active lifestyle. 
Still located in the growing downtown district inside Town Hall Commons, the Holly Springs running store is neighbors to many other local businesses including coffee shops, ice cream shops, boutiques, restaurants and breweries. If you recently moved to the area, or just passing through, we welcome you to visit our Holly Springs running store, and say hello. We'd love to hear your story and how we can help you along your journey.