Cross Country Spikes: Everything You Need to Know Before You Buy
---
It's the end of July and you've spent the past 8 weeks diligently getting up for early morning Long Runs and Hill Repeats, Progression Runs and Fartleks – all while drenched in summer's oppressive heat and humidity. You've consistently stacked mile upon mile of running, week after week.
Now that the official start of the fall Cross Country (XC) season is finally upon you, you might be thinking about what else you can do to set yourself up for success this fall. You may be wondering, "Do I need Cross Country spikes… and if so, which ones?"
To be clear: if you plan to race to your potential this fall, you need Cross Country spikes.
Advantages of Cross Country Spikes vs. Cross Country Shoes (Trainers):
Specific Purpose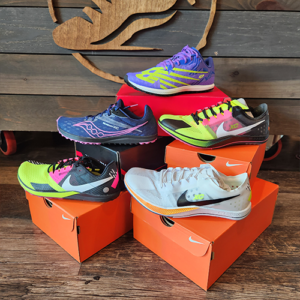 Everyday training shoes are designed to provide stability and cushioning as you accumulate hundreds of miles of training over the course of your season. Their purpose is simply to keep you injury-free throughout training.
But when it's time to showcase your speed over the Cross Country course on race day, you need a shoe that's entire purpose is to help you to be your fastest. You need Cross Country spikes.
Weight
Whereas the average training shoe weighs between 6.5oz and 13oz, XC spikes can weigh less than half that; some are even under 5oz!
Here's why that's important:
People typically take 1,500 steps for each mile that they run. A typical Cross Country race is a 5K (3.1 miles).
1,500 steps per mile x 3.1 miles = 4,650 steps
By reducing the weight that you need to pick up and put down for each of the 4,650 steps of your race, wearing Cross Country spikes will significantly increase your speed with far less effort.
As the saying goes: Work smarter, not harder!
Traction
Cross Country spikes feature replaceable 3/8" metal spikes, providing valuable traction across the varied terrain of a Cross Country course. Reducing slippage on wet grass, crushed gravel and compacted dirt by racing in Cross Country spikes will give you an advantage over competitors that are racing in their everyday training shoes.
THINGS TO REMEMBER
How should XC spikes fit?
Cross Country spikes should feel snug around your foot, almost like a slipper. You will need about a 1/2 thumb width between your longest toe & the front of the shoe for a proper fit.
Even though it may take some time getting used to the more tailored fit of spikes vs. your everyday training shoes, you shouldn't have to "break in" XC spikes; they should feel good right out of the box!
Can't I just wear Track (sprint) spikes in Cross Country races?
While Cross Country spikes and Track spikes are similar, they are NOT the same. You can wear XC spikes in Track, but not the other way around.
A Cross Country spike's padded heel and rubberized, flexible sole provides comfort and durability for long distance racing, as well as foot protection from the varied terrain of Cross Country courses.
Track spikes, with their hard, plastic forefoot plate and lack of padding in the heel, is incompatible with Cross Country racing. Wearing Track spikes on a Cross Country course will be uncomfortable at best, and a recipe for injury at worst.
How long do XC spikes last?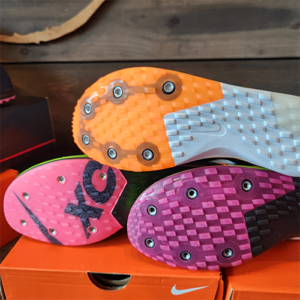 While there is no hard and fast rule as to how many miles you can expect to get out of your XC spikes, you should be diligent in inspecting them for wear and tear. Replacing the 3/8" metal spikes every few races is an inexpensive way to keep your shoes feeling fast. But if the rubberized sole begins to crack or you notice that they have developed an uneven wear pattern, it is time to replace them altogether.
Beware of growing feet! Since XC spikes have a more tailored fit, student-athletes whose feet are still growing should be extra vigilant in checking how their spikes fit their feet over the course of the season. Running and racing in ill-fitting shoes can result in season-disrupting/ending blisters or other injuries.
Which are the best Cross Country spikes for me?
Whether you're considering entry level XC spikes – spikes like Saucony's Kilkenny XC, New Balance's XC, or Nike's Zoom Rival XC; mid-level spikes like Saucony's Havok; or high performance XC spikes – spikes like Nike's popular Dragonfly XC, take the time to try out a range of brands and models. The trained professionals at local running shoe store like Pace Yourself Run Company are committed to making sure that the XC spikes that you leave with are the right ones for you.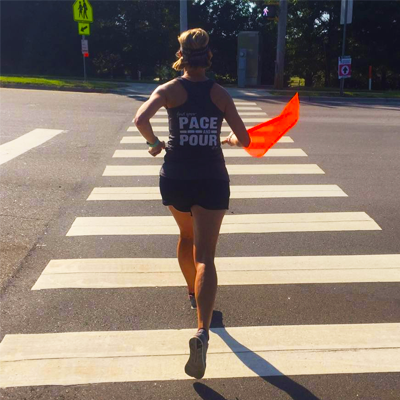 About the Author
Kimberly Henry – Kimberly, or as we affectionately refer to her as… "Coach", is a USATF Level 2 and AIC Certified coach. After noting the absence of middle school Cross Country opportunities in Wake County, she founded the Holly Springs Youth XC Club in 2012, geared specifically for kids ages 9-13.  Now entering her 12th year coaching XC and 11th year coaching Track & Field at Holly Springs High School, Kimberly was awarded SWAC XC Coach of the Year in 2017. She notes that she has THE BEST JOB IN THE WORLD and feels immense gratitude that she gets to coach some pretty incredible young people each and every day. Kimberly loves semi-obsessively creating training plans & analyzing race data, Duke, Taylor Swift, her 2 awesome kids, and her hilarious husband- not necessarily in that order.