The Best Winter Running Gear: How to Keep Warm While Running in the Cold
---
Whether you embrace the colder temps or simply try to tolerate them, running in the cold takes preparation. Here in the Carolinas, when October comes around, any day could be considered "freezing", especially to southerners who are used to wearing flip flops year round. Below are several tips to stay warm this winter coupled with what we consider to be the best winter running gear this year. 
Layer Up, Buttercup
First thing to remember, especially when running in the winter in North Carolina when the temps can change throughout the day is it's important to dress in layers. Some of the best cold weather running clothes are designed to be worn as a layer. You can always remove layers of clothes if you start getting too warm. Jackets with pockets are ideal as you can store gloves and head coverings easily.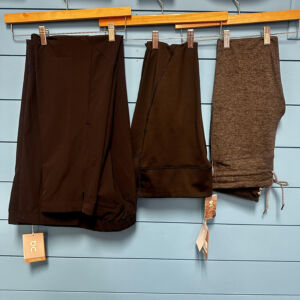 This year's best winter running gear pants:
On Running Track Pants – lightweight fabric, hidden key loop, full-length zippers for easy step in and out, and multiple pockets – pockets make everything better. 
On Running Performance Winter Tights – brushed fabric for added warmth and technical sweat-wicking fabric, integrated pockets,  engineered around the movement of the body.
Rabbit EZ Tights – the softest buttery fabric you're gonna find,  high-rise waist, and 2 front internal key pockets
Since it's not as easy to remove layers on your legs as it is the top half of your body, here's a general rule of thumb here's what we recommend based on temperature:
45 and above – shorts or capris

35-45 degrees: average leggings

30-35 degrees: base layer 

Below 30 degrees: tights (fleece-lined) w/ possible 2nd layer depending on wind/temperature

This year's best winter running gear tops:
Rabbit Xmas EZ Long Sleeve – tailored fit to keep the warmth in, super lightweight and quick-drying.
On Running Climate Shirt – adaptive fabric for both cool and warm runs, four-way stretch fabric for the freedom you need, and 3D waffle construction for better absorbency
Rabbit Race Pace Long Sleeve – super lightweight and quick-drying, cling-free microtexture on the inside, and perforations under the arms for ventilation
Windy Conditions?
If running an out and back route, it would be smart to begin your run into the wind. This way the breeze won't sting as much after you've broken a sweat. Also, if you're a bit fatigued on the 2nd half of your run, you won't have to battle the wind as much.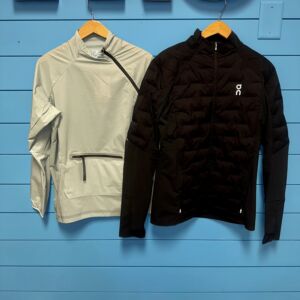 This year's best winter running gear jackets:
On Running Active Jacket – fully windproof and water-resistant, angular zip for easier on and off, folds away into its own front pocket.
ON Running Climate Jacket – secure thumb holes and pockets, padded for warmth and insulation, sweat-wicking and water repellent.
Warm Up Indoors
We always recommend warming up and loosening your muscles before a workout to help prevent injury. If cold outside, try warming up inside to get the blood flowing before tackling the elements. Squats, high knees, jumping jacks and a few stretches can warm you up indoors easily.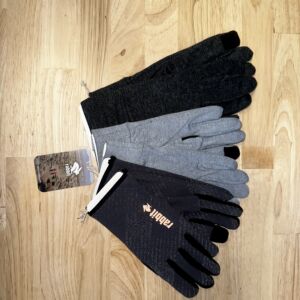 This year's best winter running gear accessories:
Rabbit EZ Gloves – quite possibly the softest gloves we've felt, the Rabbit EZ Gloves are super lightweight & quick drying while including touchscreen pads on both the thumb and index fingers.
Beanies – The On Running Beanies are built with odor resistant 100% merino wool. The extremely popular PYRC beanie is a New Era brand and designed with a super soft polyester fleece lining.
Light It Up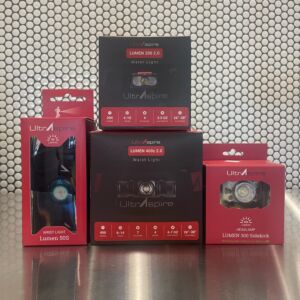 With the cooler temperatures come shorter days. If your runs are typically in the evenings, you're likely to be running in the dark come November. Stay safe by dressing in reflective gear, especially in low-light conditions. If it's dark, there's plenty of light options from headlamps to vests, to clip on lights.
UltraSpire – one of our favorite brands in the store, UltraSpire offers several hands free lighted options to keep you seen from wrist and waist wearables to headlamps. Shown here are some of the most popular options including the Lumen 50S Wrist Light, Lumen 200 2.0 Waist Light, Lumen 400z 2.0 Waist Light, and Lumen 300 Sidekick Headlamp.
Lube Up
This really should be a tip for year round but especially when you're layering up – trapping the heat/moisture – be sure to lube up in all the important places. It never hurts to apply a little more to avoid chafing.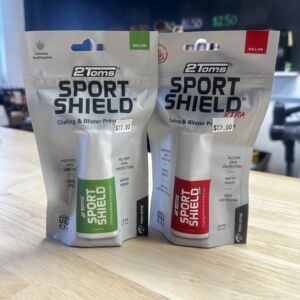 2Toms SportShield – remember a little can go a long way with the roll-on. The SportShield roll-on is waterproof and sweatproof, non-toxic, and is fragrance-free and dye-free.
Searching a local store for runners that carry cold weather running clothes? At Pace Yourself Run Company we carry a variety of apparel brands to keep you warm this winter as well as nutrition and hydration options for all levels. We'd love the opportunity to discuss your upcoming races and goals and how we can help we can help you achieve them.