Winter 2021 – Kids Speed Training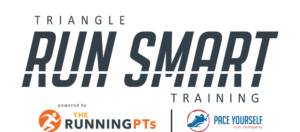 THIS CLASS IS NOW FULL
Winter 2021 Kids Speed Training in Apex is brought to you by Triangle Run Smart Training, presented by: Pace Yourself Run Company and The Running PTs. Class is 8 weeks long, meeting once per week, and is geared toward helping kids aged 7-13 years old work on their running strength and endurance. All levels and paces are welcome!
Class includes: 8 weeks of 1 coached workout per week, 20% off discount at Pace Yourself Run Company (some restrictions apply), training class shirt, in-class seminars on running-related topics, and weekly tips and running information from your coach and The Running PTs to supplement your & your child's knowledge.
Duration: 8 week class meeting twice per week
Dates: January 13, 2021 – March 3, 2021
Time: Wednesday | 6:00pm – 7:00pm
Where: Apex Nature Park (2600 Evans Road, Apex 27502)
Cost: $50 through 1/6/21; $60 through 1/23/21
Coach: Holly Kane
*Limited to 40 participants
Referring New Runners to Our Program – Get Rewarded
Triangle Run Smart Training is happy to announce our training referral program!  Get rewarded for referring friends to join our training classes. Make sure they mention your name when they register for a class and for each person you refer, you get $5 off your next training class registration (not the current class, but the next class) up to the cost of the class.  Get lots of new runners to register and you could get your next training class free!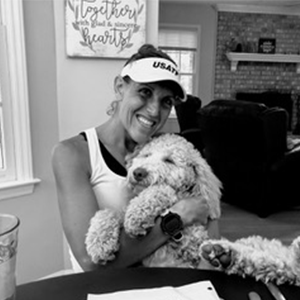 Coach Holly Kane
Coach Holly, a USATF and RRCA certified Running Coach, wants to share her joy of running with everyone she meets.  Since 2012 Holly has been coaching athletes of all levels and ages, from Boston qualifying adults to 6-year-old children. Holly started the Apex Youth Run club with her colleague in 2015, volunteered as the lead coach for the Olive Chapel run club and leads a Facebook community of adult runners aptly named the "Happy Runners".  Holly is also a middle school Healthful Living/PE teacher at West Lake Middle School.
Coach Holly is married and has 2 daughters. With the support of her family, she has raced numerous marathons including the Boston Marathon (2013 and 2019).   Holly has also raced several ½ marathons and in 2019 she joined an ultra-team to run the Tuna 200-mile relay.  Although a road marathon is her favorite race, recently Holly has found success with local single-track trail races.
As a coach, Holly strives to plan every run so athletes finish feeling strong, successful and happy.  She knows from personal experience that being physically fit produces a positive outlook that will manifest itself into all areas of life.