Full & Half Marathon Training (Holly Springs AM)
Class is 16 weeks long and is geared toward helping adults train for a full or half marathon: be it their first or as a veteran runner looking to improve their race time.  All levels and paces are welcome!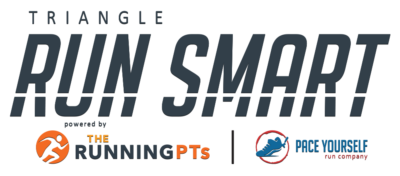 Class includes: 16-week training schedule, 2 coach-led group workouts per week, email access to the coach throughout the program, 20% off discount at Pace Yourself Run Company (some restrictions apply), training class shirt, in-class/virtual seminars on running-related topics, strength training plan & virtual workout with coach and other trainees, 2 in-person recovery sessions by The Running PTs at class meeting location, and weekly tips and running information from your coach and The Running PTs to supplement your knowledge. The coached group runs are in person, though this class can be done virtually if preferred: all info will be provided on the group run & route ahead of time so that trainees can run separately at another time if they want to.
Duration: 16 week class meeting twice per week
Dates: November 29th – March 21st
Time: Tuesday & Thursdays | 5:30am – 6:30am
Where: Pace Yourself Run Company (242 S Main Street, Suite 102, Holly Springs, NC 27540)
Cost: $80 through 11/22; $85 through 12/5; $95 through 12/20
Coach: Dave Gross
Referring New Runners to Our Program – Get Rewarded
Triangle Run Smart Training is happy to announce our training referral program!  Get rewarded for referring friends to join our training classes. Make sure they mention your name when they register for a class and for each person you refer, you get $5 off your next training class registration (not the current class, but the next class) up to the cost of the class.  Get lots of new runners to register and you could get your next training class free!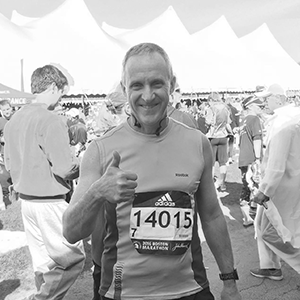 Coach Dave Gross
Dave, a certified RRCA run coach, joined the coaching staff at PYRC after leading the Holly Springs Half and Full Marathon offsite training for Life Time Run. When not running the streets of Holly Springs in the early morning hours, Dave lives in Cary and works in Raleigh as a project manager for a healthcare IT company Allscripts.   Some of his favorite running experiences have included his family who have gradually taken  up running over the years.  Whether running in Richmond or Orlando with his wife Marguerite or at a local turkey trot with his son Adam or crossing the Peak to Creek finish line with his daughter Anna on her first marathon or weekend runs in Umstead with friends, Dave knows that it is the running journey that matters most and will serve us well maintaining a higher quality of life for longer.