Full & Half Marathon Training (Cary AM)
Class is 16 weeks long and is geared toward helping adults train for a full or half marathon: be it their first or as a veteran runner looking to improve their race time.  All levels and paces are welcome!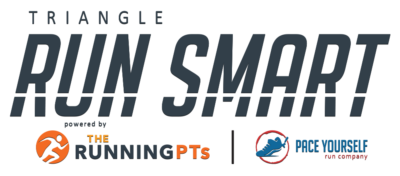 Class includes: 16-week training schedule, 2 coach-led group workouts per week, email access to the coach throughout the program, 20% off discount at Pace Yourself Run Company (some restrictions apply), training class shirt, in-class/virtual seminars on running-related topics, strength training plan & virtual workout with coach and other trainees, 2 in-person recovery sessions by The Running PTs at class meeting location, and weekly tips and running information from your coach and The Running PTs to supplement your knowledge. The coached group runs are in person, though this class can be done virtually if preferred: all info will be provided on the group run & route ahead of time so that trainees can run separately at another time if they want to.
Duration: 16 week class meeting twice per week
Dates: November 29th – March 21st
Time: Tuesday & Thursdays | 5:30am – 6:30am
Where: Davis Drive Park (1610 Davis Drive, Apex NC 27523)
Cost: $80 throughh 11/22; $85 through 12/5; $95 through 12/20
Coach: Kelly Svihovec
Referring New Runners to Our Program – Get Rewarded
Triangle Run Smart Training is happy to announce our training referral program!  Get rewarded for referring friends to join our training classes. Make sure they mention your name when they register for a class and for each person you refer, you get $5 off your next training class registration (not the current class, but the next class) up to the cost of the class.  Get lots of new runners to register and you could get your next training class free!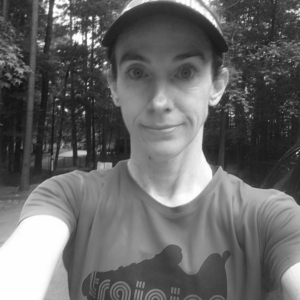 Coach Kelly Svihovec
Kelly is the new Training Coordinator and a Run Coach with PYRC Training.  She was formerly a Run Coach and Training Coordinator at Life Time in Cary, NC for 3 1/2 years, and is a stay at home mom to 3 young kids.  She's a lifelong soccer player, turned into distance runner in 2005.  She's run too many half marathons to count, 2 full marathons, a 20-mile trail race, and many shorter distance races (road and trail).  She has a passion for shorter distance speed work, though continues to try to master the longer distances, and absolutely loves coordinating anything running-related.  Kelly is heavily involved in the local running community and is in her 3rd year on the Holly Springs Half Marathon Board. Kelly is a certified RRCA run coach as well as CPR/First Aid certified.