Beginner 5k (Spring 2020)
The Beginner 5k Class is for beginning runners or those who have taken some time and are getting back into it. This class includes: 10-week training schedule, 2 coach-led group workouts per week, email access to coach throughout the program, discount at Pace Yourself Run Company, training shirt, discount on goal race of Run the Quay, and running-related seminars and additional advice.
Duration: 9 week class
Dates: April 6th – June 6th
Time: virtual class
Goal Race of: Run the Quay 5k on June 6th
Where: virtual class
Cost: $50 ($25 off for those who took the Introduction to Running training class)
Coach: Dave Karls
Refer a Friend – Get Rewarded
PYRC Training is happy to announce our training referral program!  Get rewarded for referring friends to join our training classes. Make sure they mention your name in Fitvil when they register for a class and for each person you refer, you get $5 off your next training class registration (not the current class, but the next class) up to the cost of the class.  Get lots of friends to register and you could get your next training class free!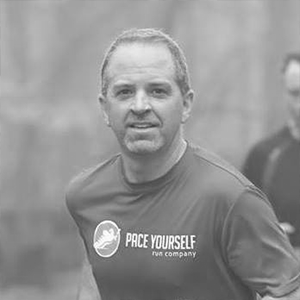 Coach Dave Karls
After being an on and off casual runner since high school and college, I decided to "get serious" after turning 40. It was really just about being more consistent and intentional about running. A challenge from my younger sister got me training, and I ran my first marathon on my 43rd birthday, and I haven't looked back. Running is now a part of my life. As I have gotten involved running with groups, I've enjoyed learning from more experienced runners, and also helping motivate and advise newer runners. Last year I decided to get formal coaching training, and completed the Road Runners Club of America (RRCA) Coaching Certification Program. I'm looking forward to helping people start running, keep running, and chase their goals!