Adult 8k/16k (Spring)
The Adult 8k/16k Class is for all levels and paces of runners to help prepare for the NC Spring Classic 8K/16K at the end of the season: to run a further distance than they ever have or to improve pacing. This class includes: 8-week training schedule, 2 coach-led group workouts per week, email access to coaches throughout the program, discount at Pace Yourself Run Company, training shirt, discount on goal race of NC Spring Classic 8K/16K, and running-related seminars and additional advice.
Duration: 8 week class meeting twice per week
Dates: March 4th – April 22nd
Time: Wednesdays: 6:30-7:30pm & Saturdays: 8:00-9:30am
Where: Pace Yourself Run Company (242 S. Main Street Suite 102, Holly Springs)
Cost: $60
Coaches: Chris Adkins & Ryan Monteleone
Refer a Friend – Get Rewarded
PYRC Training is happy to announce our training referral program!  Get rewarded for referring friends to join our training classes. Make sure they mention your name in Fitvil when they register for a class and for each person you refer, you get $5 off your next training class registration (not the current class, but the next class) up to the cost of the class.  Get lots of friends to register and you could get your next training class free!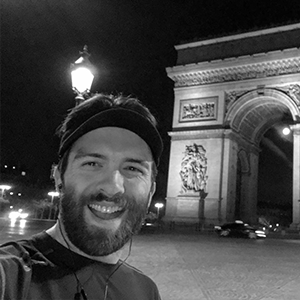 Coach Chris Adkins
Chris is an avid runner who began distance running on a dare from a good friend to do a marathon. After struggling through City of Oaks Marathon (redoing that one is still on the list!) he gained an understanding of adequate training and developed a love for distance running. A few marathons and ultra races later and he developed a passion for helping others along their fitness journey. Chris can frequently be found out for a run solo, with a friend or two or twenty, or at an F3 workout doing some cross training.
PS – Run sight seeing is the best! Never underestimate how much of a new city you can see if you get out and hit the streets! Strava heat maps are your friend 🙂