Brands + Products
We have built relationships with a variety of specialty running shoe companies. Everyone's feet and running mechanics are different. We want to work with companies who understand that, and engineer their shoes to meet those needs. Covering all of those bases is our goal, so we can help anyone who walks in the door find a quality shoe that works for them.
We all know, you need more than just shoes to hit the road…apparel, glasses, safety lights, reflectors, hydration, nutrition … all of the things that help with performance and safety on the road or on the trail. We want to keep it functional, funky, and fun. You'll find what you need, and maybe some stuff you didn't know you needed. We look to source our inventory of accessories with your favorite brands, as well as some independent brands for you to discover.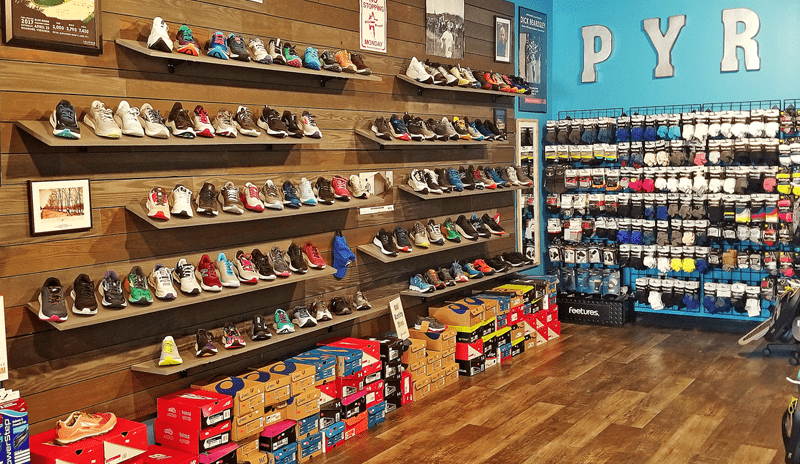 SHOES
Being an independent run specialty store, we have access to some unique brands and models of running shoes you won't find at big box retailers. Whether you're looking for an everyday trainer, a lightweight racer, a trail shoe, track spikes, or something to make walking more enjoyable we have a variety of shoes for you to compare against in order to find the perfect fit.
NUTRITION
If you find yourself tiring too quickly during a race or losing your spunk while training, it may be time to try something new. Although everyone is different, race fuel becomes a necessity for most everyone after 90 minutes of running. We carry a variety of gels, chews, bars, and hydration for you to find the right kind of fuel for you.
ACCESSORIES
You'll find a wide variety of running accessories in store…from specialty running socks, insoles, clothing, hydration, injury prevention, recovery, CBC oil, safety/reflective gear, etc.