Run for the Ridge 5k is one of those "must run" events here in Holly Springs and one which we are extremely happy to support. The money raised from this year's event will be used to purchase new computers for the Science, Technology, Engineering and Math lab at Holly Ridge Middle School. 
As a "Thank You" for your participation in the event, Pace Yourself is offering a special discount to those participants of the 2020 event. Just stop by the store during packet pickup or show us your race bib before 3/18 and we'll knock 10% off regularly priced items. Obviously, because of specific brand restrictions, come exclusions do apply.
Thank you again for supporting such an important race in our community!
Drop by the store, show us your registration, bib or medal, and receive 10% off regularly priced items!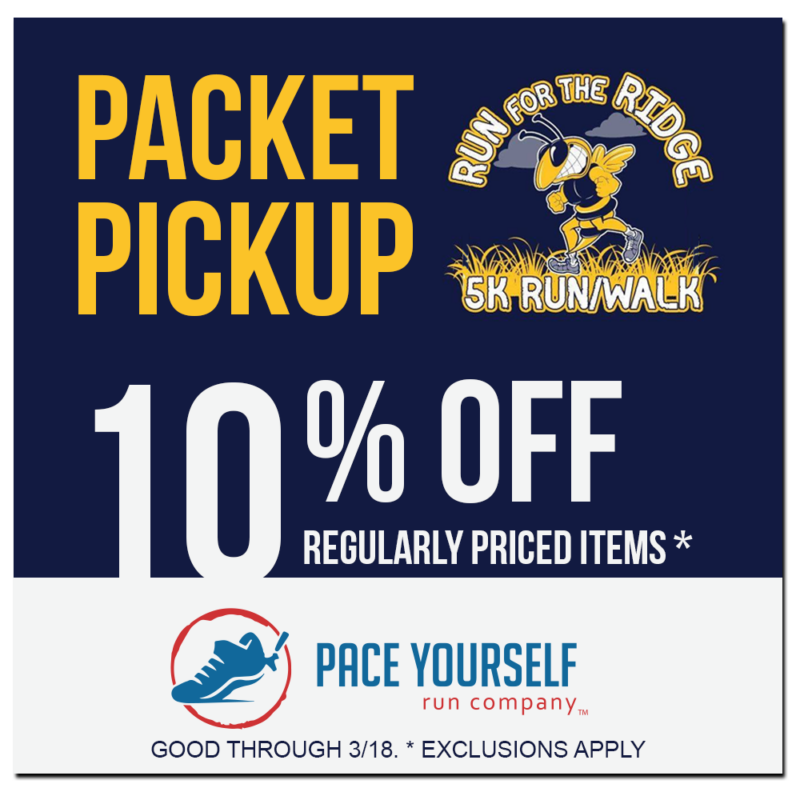 Pace Yourself Run Company opened in the fall of 2019 to provide runners, walkers, triathletes and the community with proper footwear and accessories in order to help you become better at your sport.
From the beginner walker to the elite athlete, the staff at the Pace Yourself Run Company aims to give exceptional service and advice to all of our customers.
With our wide selection of the latest running shoes, nutrition, and accessories we hope to show you how passionate we are for what we do.
We welcome you to stop by our store in downtown Holly Springs and discover how the proper fit will make your running and walking a much more enjoyable experience. Our staff would love to discuss your history of running or walking, any injuries you've dealt with which have sidelined you in the past, and provide an in-store analysis to determine the perfect pair of shoes for your individual needs.
Whether it's a 15 minute mile or a 7 minute mile, it's still a mile.
ALL paces are welcomed!