To our PYRC family:
As of Saturday, March 14th, 2020:
The health and safety of everyone in our community has always been part of th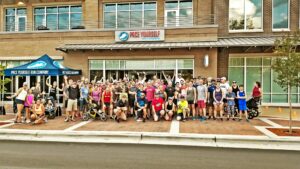 e PYRC mission and remains our top priority. We know that over the past few days you have all received messages about the COVID-19 virus. We wanted to assure you we have been monitoring information being released by several agencies including the CDC and World Health Organization along with guidance from NC State and Town of Holly Springs officials. In an effort to keep you informed we wanted to provide you with an update on store operations and upcoming events.
PYRC & Runners Clubhouse:
Pace Yourself Run Co. & the Runners Clubhouse (bar area inside) is open and here for you! While we have always worked diligently to provide a clean and safe store environment, we want to reassure you that we are taking extra precautions to ensure your safety. We have worked with staff to be sure that all shared surfaces and spaces are cleaned and disinfected routinely throughout the day and sanitizer is readily available to all customers and staff throughout the store. We also hope and ask that if you see something, say something.  If at any time you notice an area of concern, please let us know, so we can take care of it.
Please continue to support your local independently owned businesses who are already feeling the impact of this situation! We all need to work together and support each other!
Events, Training, and Run Clubs:
Run Clubs:
Tuesday: PYRC Run Club @ 6:30 – No Change
Wednesday: CBC Run Club @ 6:30 – No Change
Thursday: Bombshell Run Club @ 6:30 – No Change
Saturday: PYRC Run Club – No Change
PYRC Training Programs:
Advanced Kids Training (March 16th) – CANCELLED
Current 8k/16k Training – NO CHANGE
Beginner 5k Training (beginning March 30th) – NO CHANGE
Events:
*Please keep a lookout for updates on our PYRC Facebook page
We do ask that everyone please take extra precautions and practice increased levels of awareness.  What does this mean? If you don't feel good, PLEASE stay home.  We ask this for the safety of you and all of our athletes. Please wash your hands, practice social distancing, and be aware of others sensitivity to the current situation. We promise we will keep you all updated of any changes as we receive guidance from state and local officials. 
As runners, local small business owners, and members of the Holly Springs Community we take this situation very seriously. That said, we also understand that running does provide a respite for so many in our community. So while we hope that everyone will be cautious, we encourage everyone to get outside and enjoy the beautiful spring that we have been blessed with!  Walk, run, skip, and jump!  Shop at and support local small businesses!  Trust us, we and they are feeling the effects of this. Spend time with family and friends at one of our local parks! Take a minute and pray for those affected and reflect on all that we have to be thankful for!
Love,
Your PYRC Family
#shoplocal #runindependent